>AsianWarriors<
Event
The Quiz Show#1(Abruptly Ended)
Valentine's Lottery(Canceled)
Word, Hunter, Treasure!
Christmas Giveaway(Closed)
News & GM's talk
5/12/14
Hihi~
Many members are in a bit of confusion to the information these days and when I looked to this page and found out that these guide are old by days now. So I decide to take a break from playing and spent more time to renew the page again, keep watching as you can suggest to change the content!~.
---
5/5/14
Hello
The 2nd round of quiz day is really tempting. I'm very glad of it. However there is some concerning of helping method. Due to an issue of feedback from many officers, so we discuss and decide to help the guildies main quest Only on Saturday. So what about the rest of the time? We decide to have you venture, grinding, farming on your own, more level more effective to progress the mq. Even pairing with your guildies to discover something that you did not try before. Like Giant rocker, Gilgoble , Eternity Maze. etc. You can ask for those unexpected experiences at Officers. The reason why is when you need help, our time was not both right to decide to help so managing with certain day is the best solution and making the atmosphere calmer. Because we knew that adventure together and chatting is the most thing you can get when play online, the only yearn for level is a kind of boredom yet is the way of offline games. Feel free to chatting with us and have a good time playing. >.<
Ps. Someone might found this and felt terrible because of you wanted to be very fast level in no time. I suggest to walk away, don't tolerate. This place is for a one fine community that I Cited in The Intro at the first place.
---
4/27/14
Hello~
Now the quiz show event is ongoing. This event has a very good response from participant and audiences. Thank you for made this atmosphere to be excited and thrilled. Still 4 days until the event ended and redemption attempt. Have the most prize of it and don't give up :3
The Guild Introduction
Currently at level 33
[Tactical Orders : lv.2][Gathering Orders : Lv.9]
The guild was formed in 4th October 2013. Mostly Resided on Flammel Server.
Our goals was to be a fine community place to socialize, no intention of becoming competing guild. noting more, nothing less.
We are not big in numbers of member, we do not have many high level players like the others be. We keep size small to have a full share of thoughts, funs, and group activities.
Not suggested for those who looking for a fast self-elevation guild (eg. fast-leveled, fame)(although we can help you in that way anyway) but looking for a simple community,A peaceful yet fun, no pressure and complexity which you can play in Iruna happier.
"The winner does not always win. The Winner is the one who never gives up when they lose." : Hiero aka ÷Hikaru÷
"Everybody's different." : hams
Join Us!
There are three ways to join.
- IN GAME recruiting
- Post the request to join at our Chat Box below (Read the rules first)
Doesn't matter how experience you had, zero or mastered, we're welcome.
Exception
- person whom had a bad reputation to other guild.
- 3rd Alternate Character
Useful Information
Boss Guide
Note : These things will/or happen during the battle.
MAG : Boss can use magic attack.
AOE : (Or some) Boss attack can spread the range so it will damaged for those who get closed to boss. (Area of Effect)
ALL : Boss can use skill/attack that damage everyone despite the range.
POI : Cause Poison.
PARA : Cause Paralysis.
STUN : Cause Stun.
BLI : Cause Blind.
RAGE : Red Aura will appear, (stat/damage/???) of boss will increase.
HP1 : HP turns to 1.
MP1 : MP turns to 1.
ALL1 : Both HP and MP Turn to 1.
HPH : HP will halved(and cannot recover) by max HP.
MPH : MP will halved(and cannot recover) by max MP.
EFFL : All continuous effects will be lost.
STAT : Some stat(s) will either decrease or increase. Tell by each stats.
??? : Unique.
Maps
Map is for everyone not for only guild members, just please don't cut the credit out.
ps: the entrance to wibo city is from bottom, not the above.
External Guide
—The Following Tips are came from | This Forum
Quest for exp Guide
List of Upgradable Equipments and Guide
☆Ability Guide
Crysta's Guide
Refining Guide
Special Class Discussion
Production Systems
Level Cap. from 5/15/14 is 75.
Screenshots will be made soon(?)
How to
- To product an item(s) you will need a/an production tool(s) to do so (tool can be found in every capital city and above minuala city).
- Choose an item to product by select Recipes, press set when needed items is gathered then choose produce(used 1 tool per 1 production).
- There are three outcomes : Success, failure and Failure with (some)item(s) is lost.
- The equipment that needs the same item to produce means strengthening.
- The level of production will unlock better recipes and improve chance of success by leveling it. Leveling is done by every attempt of production.
- Tips of leveling is try using recipe that needs only one or two items.
Pet & Island System
(Information derived from jp wiki and forum)
Put Island Object in your own island to attract Monster. Continuously feed them(Only Once per day, in edit mode only) and they'll become your pet.
- You can have only one stray monster in island. If you wanted to change stray, expel them or relog to island(affiliate must be 0)
- Keep watching the events that gives you Object by any means (Ex. Christmas cake B, New Years Deco by defeat Madetai)
- You can buy additional Object at Item shop (RMT)
Feeding Pets
- to increase monster affiliate, you have to feed with your item (once per day)
- There's 5 types of satisfaction that affected affiliate point [very satisfied, satisfied, okay, angry, very angry] from what categories of item you gave.
- the items you fed are also affected the pet stats in future too. So choose best category and more specific item to have pet's stat you wanted to be.
- Roughly, the affiliate point of feeding is (monsters had their own calculation rate, this is average)
(A + B) x C
A and C : satisfaction rate
very satisfied : 50/1.5
satisfied : 40/1.5
okay : 10/1
exhausted : -40/?
angry : -50/?
B is from Island attribute points, to increase point
- visit other islands
- keep feeding monster
- Cultivating [harvesting]
List of Collectible Object
List of Monster (that attract to your overall attribute only, no eggs included)
Color Description
fire water wind earth darkness light neutral
List of Feeding Items
Tips
A Reminder
Fast spina
Rules
Universal Rules
- This guild uses English as a middle language. Other language are also welcome but try not to speak it often.
- Be Nice and Friendly to everyone, Rank will be stripped(or be kicked when situation is severe) when showing a childish action, verbal fighting or disrespecting.
- About the mq helping, mostly officer will help on the weekend.
- Scamming is Unacceptable, Immediate Kick out will be done if ranked members see or get informed of the action.
- You can request for a certain help like gathering items or farming. Please be patient if your guild members can't help you that instance.
- Being inactive is something understandable between living in a game and real life. , you have to reply by then or be kicked if you are still inactive for another week.(In case of the other guildies didn't really see you.). Tell to any ranked member for being inactive with reason and you'll not be kicked within the time you have requested.
- We have no Intention to blacklist people who leave our guild, please tell us the reason why you will leave the guild to gm and next time you will be welcomed back or it will be harder when you leave without words. All except who broke the rules and guild hopper.
Additional Rules for Veteran and Officer
- Being an eye of the member.
- DO NOT promote any member but you can be suggest.
- Be Informative, please provide information you knew to member as possible.
- Being Officer is mean to provide an extra help for members, Rank maybe lower down to veteran in being Officer for nothing.
Things you can do freely
- Recruitment
Guild Reformation (Ongoing)
Guild Reformation is the time that will be decide of guildie activeness status, by send mail of inactive people and response. If no response, that player will be kicked by the rule of inactive. The Reformation held every two months
The deadline of replying mail is 5/25
Main Members
Ranking System
Veteran :
Additional Criteria for Veteran
- Activeness
- Helped each other
Officer :
Additional Criteria for Officer
- Activeness
- Frequently Helped each other
- Gain GM's certain trust
- Guildie's Relationship
Exceptions : Stripped Rank Member, Newly Member with level requirement met, 2nd Alternate Character in the guild.
Last edited on 4/27/2014
Ranked Member
The Reason why we do not fill the member list is because there are some people who get in and out. Mostly for players who do not socialize and follow the rules. Please understand this.
Past Comrade
Our past friends that made a good cause and helpful enough to not to be kicked in this guild. Ever.
- lulaby1
- Hiero
- ~Psychic
- reinton
Screenshots
You can send your screenshots you take at asianwarriors[at]outlook.com
Mouse over image for details about the ss.
(I am trying to find pic sharing place)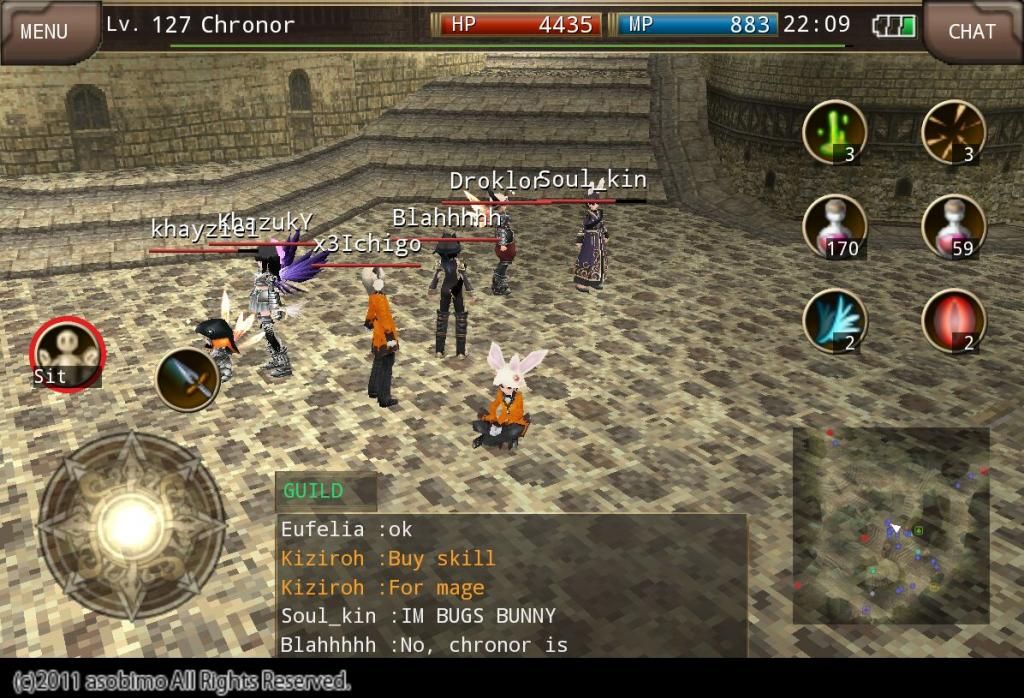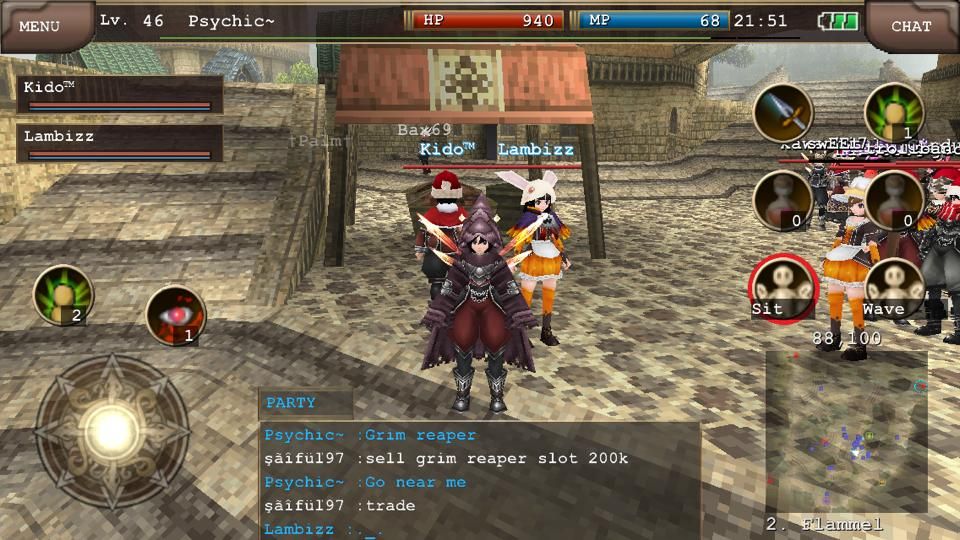 Chat Box
Let's have an outside talk or something to talk about. Feel free to post here!
Rules : Please use your in-game name as a chat name. For who wants to join the guild please use your in-game name and ends with () eg. NaMe() and post your request (by tell your preferred place and server ).
page revision: 171, last edited: 24 May 2014 10:17